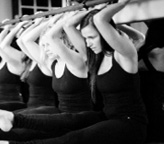 Buti Yoga
Private Pilates and
Gyrotonic

®
Precision Pilates meets the Barre!
Offering Barre, Pilates Mat, and Buti Yoga classes, our personal attention on form and alignment is coupled with the motivation and encouragement of a group class. Think of it as a private session with your very best friends cheering you on! Expect an extreme challenge and prepare to leave feeling calmly energized after this personalized group training session.
Buti Yoga is an empowering blend of Plyometrics, Tribal Dance and Yoga. If you find yourself making a grocery list during yoga class, you must experience Buti.
Leading small classes, our professional staff are certified Pilates or Yoga Instructors in addition to BarreAmped. We know you'll appreciate the difference.
There is never any penalty for customers who late cancel during WCPSS snow days! After a snow or ice event, please park on the street to avoid the grade in and out of our parking lot.

Our Facebook page will have inclement weather information. Our online schedule is ALWAYS up-to-date.